The Frank S. Ortiz Dog Park
THE DOG PARK

This spectacular off-leash park has 138 acres of arroyos and hills, miles of trails, and commanding views of Santa Fe. It is one of the largest parks of its kind in the United States.

Dogs are allowed off leash to run and play.

The park is not fenced-in, but dogs can roam comfortably on the trails without approaching the outer perimeters.

​Patrons are asked to look out for and clean up after their dogs.

Please join us in making our park the jewel of the city! We are working hard to keep the park clean and safe for all dogs and their people.

We look forward to seeing you!

160 Camino de Las Crucitas, Santa Fe, NM

PLEASE JOIN US!

- Volunteer

​- Become a donor

- Support a matching gift challenge for the small dog park area

- Help sponsor a shade structure

-Send us your suggestions

-Write a review of the park
Location
The park is located at 160 Camino de Las Crucitas, Santa Fe, NM 87501.
​
The large parking lot entrance is on the southwest side of Camino de las Crucitas at Buckman Road.
​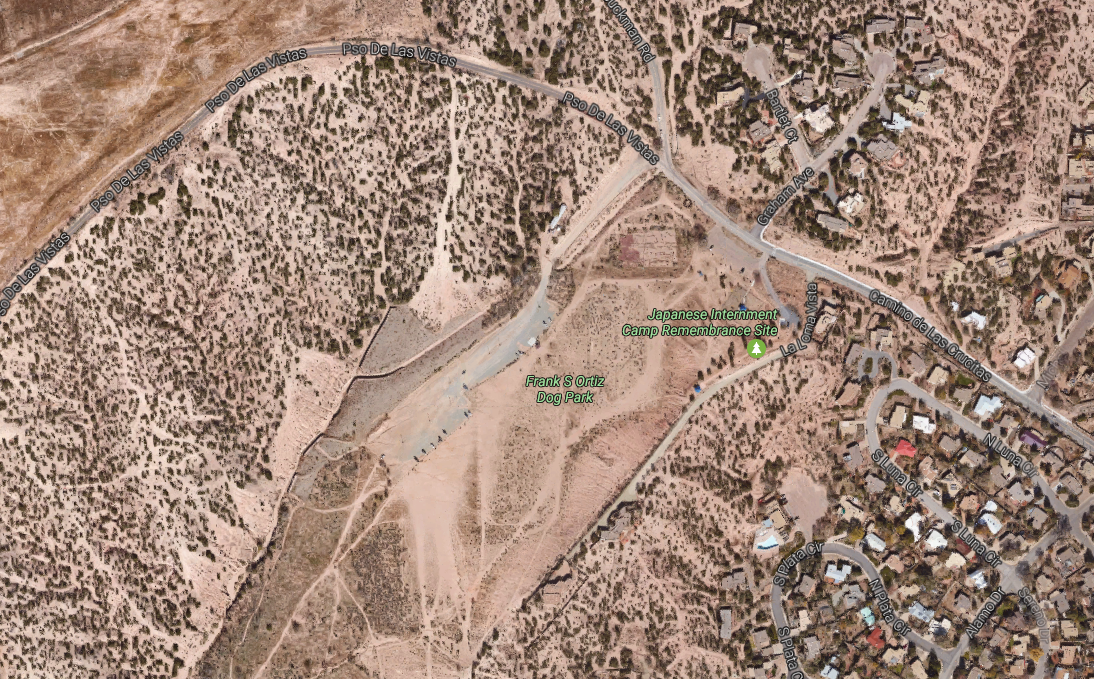 ​Google Map
Dog Park Rules:
PICK UP
your dog's waste/poop.
DISPLAY
valid license and rabies tags.
SUPERVISE
your dogs.
REMOVE
aggressive dogs immediately.
LEAVE
dogs under 4 months of age or sick dogs at home.
NO
unneutered males or females dogs in heat allowed.
KNOW
that you are liable for injury or damage caused by your dog.
HANDLE
conflicts with respect, grace and good humor.
ASK
before giving other dogs treats.
CALL
Animal Control if there is a stray dog
505-955-2700
CONTACT
Public Safety (POLICE) if there is need for their assistance
505-428-3710